...and more body parts than i'd care to admit are jiggling from the sudden impact.
no, really.
it's true.
please witness the following progression of my fat-assedness:
this is me--about 6 years ago, i think--with an old boyfriend (who reads this blog, actually...everyone say 'hi, dan!') after i ran an experiment in anorexia for a couple of months. to this day, i have no idea how i did it. i know that i could never do it again, and i know that were it not for this picture, i would never remember how ABSOLUTELY EFFING SKINNY my face was, but i will never forget how sick i was, after all the not-eating caught up to me.
anyway, blah blah blah, here's the picture: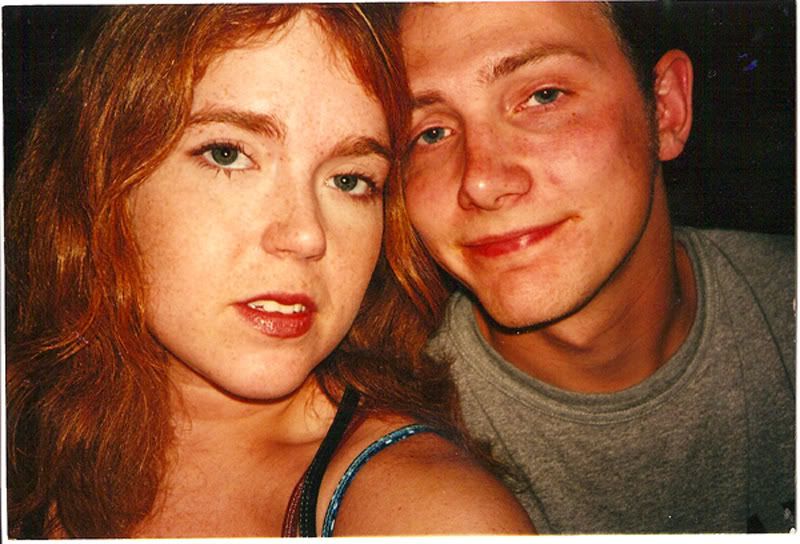 oh, and here's what the rest of my body looked like at the time...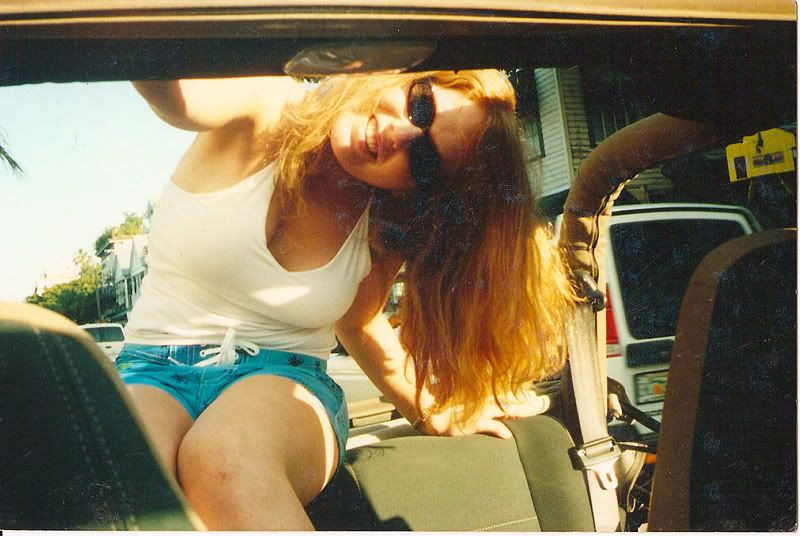 so, there's that.
that was probably the skinniest i've ever been in my life.
when i began to recover, i looked like this: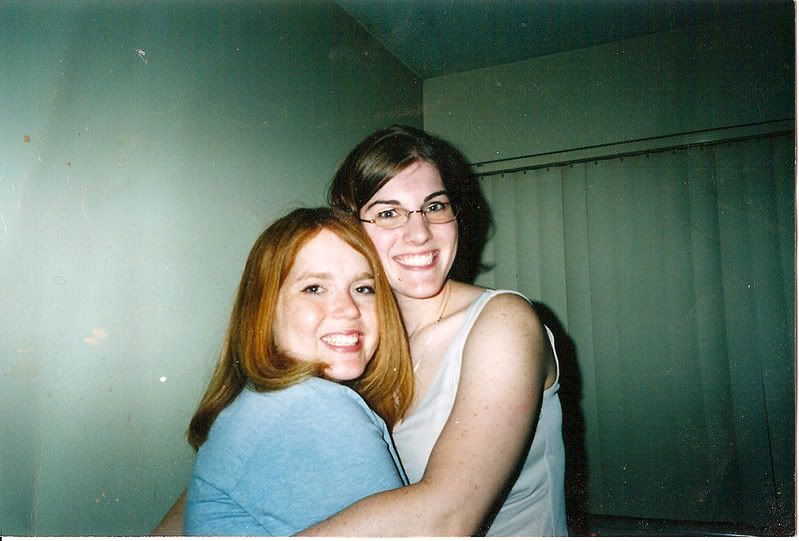 see? the face is a little different. i wouldn't call it fat...but it definitely looks different than the first picture.
and, by the by, that's my friend april in that picture, who i haven't seen in about four years. i'm under the impression that she lives in texas somewhere. has anyone seen her?
here's another example of how i looked at a 'normal' weight:
that was me and my two cousins after we won the 'snowbowl'--a family football game that we play before thanksgiving dinner every year in park city.
and this is what i looked like in a bathing suit, with my friend sweeney attempting to snack on my left boob:
(dude, don't make that face. my boobs ARE very snackable. or so i hear. although, as we trek onward through the depths of this progression of fat-assedness...they do beome more like *meals* than *snacks.* hell, i've had days where i felt i was carting around enough boob to feed the third world. but...maybe less talk about the boobs is a good thing. ahem.)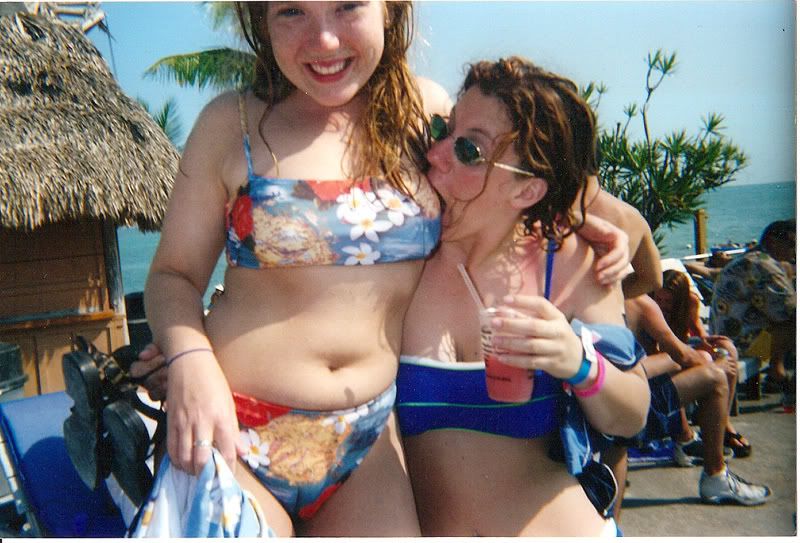 now, i know that most people will think that picture is disgusting. but, to me? i would give anything to look like that again. and, more importantly, i would give anyting to have been able to appreciate myself when i did look like that. i mean, could i have benefitted from a few (hundred) crunches every morning? certainly. but i thought i was ugly and fat then, and i wasn't.
i love that picture--i really do.
i just look so...happy.
i must have been drunk to be acting so free with my belly, but really?
what the fuck?
i'd kill to have that body back.
and, in that picture? i think i look like someone who feels comfortable, and that's a feeling i haven't felt nearly enough in this lifetime.
why, you ask?
because by new year's eve last year (when it turned 2006) i was on a FREE TRIP (to VEGAS, with 75 thousand of my family members, to celebrate my grandpa's 80th birthday) with john, and this was the most comfortable i could look:
don't worry...it doesn't make you a bad person if you're thinking
oh my goodness, what happened to her?
it was a very drastic change, that took place not-so-drastically.
it was a million little stresses (and one really big one) that helped me put on weight.
but, just in case the difference wasn't clear enough, take a peek at this close up:
all i'm trying to say is, isn't it clear that this isn't what i'm supposed to look like?
i don't blame you if you're all:
because i feel the exact same way.
(although, i do think it's worth mentioning that even my yucky fat pumpkin face comes with a crown. and a feather boa. because you can only stifle fabulous so much, you know?)
anyway, after that trip--where i should have been at my most fabulous, i tried to put my foot down.
it wasn't a complete failure, as today i look like this: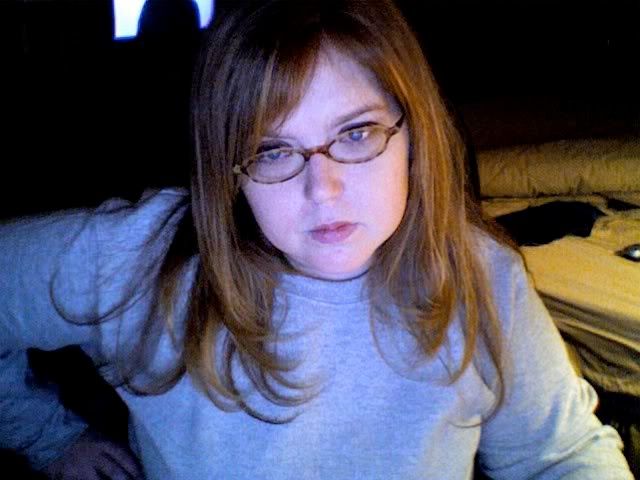 so, i think i might look a TEENY bit better than i did then, but it's hard to say.
i mean, all of the pictures that i post on this blog--if i say i took them right when i was blogging--that's absolutely the truth. but, it must be considered that i'm taking those pictures myself.
you know, my profile picture is only 4 days old, and i don't think i look like an obese monster in it...but, i took it myself (read: sat at an appropriate angle in front of my computer).
at any rate, i think i weigh at least slightly less than i did in those horrible vegas photos...
but that's really not the point.
i lost (some of) that weight pretty much as soon as we got back from vegas, by working out, and going on the south beach diet. (evidence is chronicled
here
,
here
,
and here
. the relative failure of the plan is discussed
here
, in case you're interested in that sort of thing.)
pictorial evidence of the (at least somewhat) drastic change that i made in the 2 months between horrible-fat-ass-vegas-adventure and kick-ass-spring-break with
my
girls
can be seen...oh, fuck it.
i was going to make a link, but there are already 6 frillion pictures of me in this entry, so, what the hell?
two months after fat-ass-vegas adventure, i looked like this:
and, you know?
i was proud of that.
i didn't feel great...but i felt ok.
looking back, i feel like it was a really amazing change for such a short amount of time.
but, since that trip?
i've only put weight on.
and on, and on, and on.
i didn't feel comfortable for one single second through all of last summer.
screw a tank top...
i didn't even want to wear a short sleeved shirt.
and EVERY SINGLE DAY i woke up pissed off at myself.
do you know how that feels?
to wake up and hate yourself every single day?
i know there are some of you out there who feel me...
it's terrible.
it's so terrible, that i can't even spend the time to think of a better word for how terrible it is...
i just don't want to think about it anymore.
but, i have to think about it.
now, more than ever.
this whole winter, i kept telling myself i was going to work out.
i was going to get my shit under control; i was going to use the 5 months of frigid weather to my advantage; i was going to excercise myself into oblivion.
i was going to become the kind of healthy that had no need for the south beach diet.
****
on monday, it was like 35 degrees or something in michigan.
on tuesday, it got up to 75.
nothing says
hey fat-ass...weren't you supposed to start working out 4 months ago?
like that kind of sudden change in the weather.
to be honest, i don't want to be writing this post.
i don't want to talk to you about how much the way i look bothers me.
i don't want to talk about how i prefer to not do anything that requires leaving the house on my days off because i can't stand the thought of taking a shower and spending all that time blow-drying my hair, and putting on make-up, and curling and/or straightening hair, and picking out clothes, all the while knowing that no amount of prep i can do will make me feel like i look decent enough to leave the house.
does that sound overdramatic?
of course it does. and, really? i don't want to disappoint you--i come off as so bitchy, so above taking other people's shit.
but, i'm not.
and i take more of my own shit than anyone else could ever possibly hand me.
the thing is, if i can write to you about
boones that smell like rotting roadkill
, and about my
feelings about 9/11
, and about
my father's death...
i don't know, i feel like at some point i can start telling you the truth about my everyday life, which is this:
i need to lose weight, and i think about this every single second of every single day.
often times, i think about it as i enjoy a mexican pizza from taco bell.
(in fact, i was enjoying a mexican pizza as a began writng this post. but don't tell anyone, ok?)
of course i realize that 90% of people reading this will think
'ok, then get started!
but i know, having been inspired by
y's post, and the comments that follow
, that there are plenty of people out there who know how i feel.
still, it's not for them that i write this post.
it's for me.
i need to admit this: that i am not happy, and that this thing is bothering me so much that i wish i didn't have to leave the house.
i mean, that's a problem, right?
i refuse to live through another summer where i'm ashamed to wear a short sleeved shirt.
it's entirely possible that i'll never wear a bikini again--but, you know what? that's ok.
but i'm putting my foot down...booty shaking in the aftermath and all...
at the thought of dreading wearing a short sleeved shirt.
i simply cannot put myself through this again.
i'm not morbidly obese...
it can't possibly be that difficult.
all i ask of you is this:
i'm not sharing this because i want you to tell me that i'm pretty.
i know that to do so will be the first instinct of many of you, and if you can't keep it in check, that's ok. i mean, i'm not going to turn down a compliment.
but, you need to understand that you don't REALLY know what i look like.
sure, you've seen recent photos.
you want one from right this very second?
there you go, courtesy of my pretty i-mac. which is much skinnier than i am.
at any rate...
the point of this whole thing is that i just needed to tell someone.
so, i told all of you.
now, i can't pretend like everything's okay.
everything is not okay.
i just need everyone to know that, because obviously i need to be accountable to someone other than myself.
left to my own devices, i will eat mexican pizza and baked potatoes with cheese and brocolli and sour cream and fried mushrooms--omg, fried mushrooms, they are sooooooo good--into oblivion.
so, all i can say is, if you're still reading after all this...
thanks.
i promise i'll be back tomorrow evening with a funny or bitchy story of some sort.
i just needed to get this out, and i thank you from the bottom-most of my fat rolls for listening.
seriously.